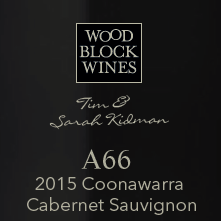 Gold at the Australian and New Zealand Boutique Wine Show
We're excited to celebrate - Our super premium small batch Coonawarra Cabernet Sauvignon, made with traditional hands on wine making practices has been awarded a Gold medalt at the 2018 Boutique Wine Show. Our first foray into small (tiny - just two barrels) wine making. Our A66 has been collaboratively hand made in the original 1868 Glenroy Shearing Shed in Coonawarra where the sheep were once shorn, that for generations grazed the pastures on the terra rossa soil where these Cabernet Sauvignon vines now stand.
Tim Kidman has cared for the vines since planting in 1994. Sue Bell and Steve Brown of Glenroy Winemakers fermented the batch in a single open vat solely with indigenous wild yeasts.
Traditional hands on wine making practices of delicate hand plunging three times a day over a week then basket pressing into half new french oak hogsheads for secondary fermentation keep the wine lovely and soft with great texture. Further barrel maturation prior to bottling was conducted under the experienced eye of Phil Lehmann and his team.
Small batch wine making really brings home just how much work, care, attention and most importantly people, it takes to tend the vines, harvest the grapes, ferment and mature the wine.
We hope you enjoy. We're excited to be offering this wine, individually and gift wrapped as well.
https://www.woodblockwines.com.au/products/a66-2015-coonawarra-cabernet-sauvignon