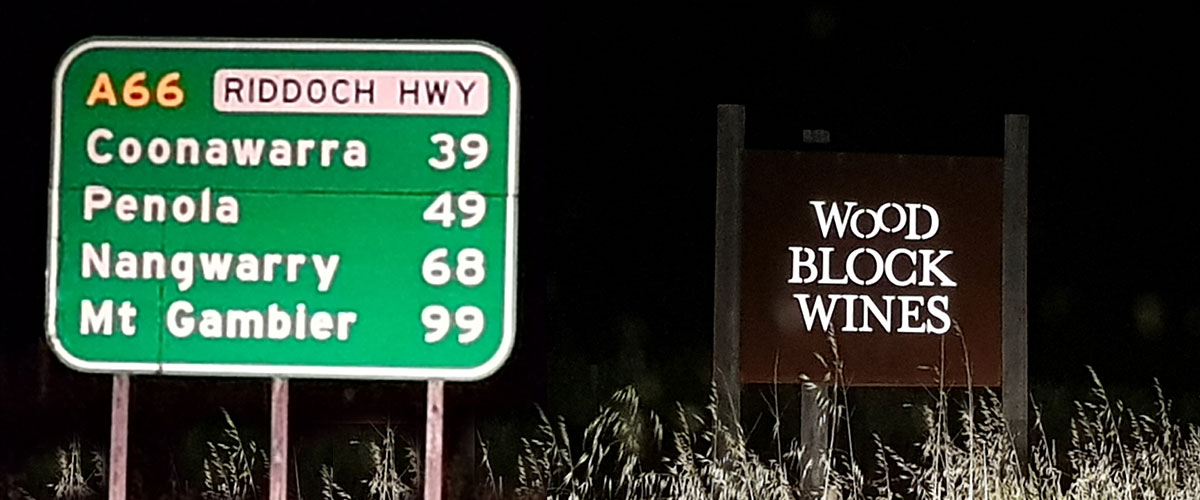 What's the Best Way to Drive to Coonawarra
Coonawarra- The long and the short of it – Our locals' guide to the best route to drive to Coonawarra from Melbourne and Adelaide.

Short versions
From Melbourne- head west for 430km – if you fall into the sea you have driven too far.
From Adelaide- head out of town in the direction of Melbourne - turn right at Keith onto the A66 Riddoch Hwy, drive a further 150km and you are in Coonawarra!
The above directions could possibly do with a little more detail for most people.. so here are the directions we give to friends who are coming to visit... we're sharing what we think is the best way to drive to Coonawarra.
The Coonawarra Beef Steak and Burgundy International Convention is coming up this weekend here in Coonawarra and we've been busy helping with the final preparations. We're looking forward to catching up with some of our fellow Beef Steak and Burgundy Club members from other areas. And in January the Coonawarra Cup is on again… So instead of repeating ourselves over and over, we're just going to send them this link, please share it around. (We're always curious to hear of other time saving navigations!?) Ask any local and of course you'll get slight variations on the themes… These are our favourite routes…
The drive from Adelaide to Coonawarra – very straight forward. A winemaker friend of ours used to laugh at how easy it was for her to drive to Adelaide airport from work in Coonawarra on the Riddoch Hwy A66 – "Left, Left, Left, Right, Left, Left – and you're there." Factor in the 378km, 4 hours and 15 minutes and you're set. So in reverse…
To leave Adelaide airport / Adelaide turn right onto Sir Donald Bradman drive, right onto West Terrace, left onto Greenhill Road around the southern parklands and then right onto Glen Osmond Road. Continue straight to Keith along what's initially called the M1 South Eastern FWY, becoming the A1 Princes Hwy at Murray Bridge. From Tailem Bend to Keith you're travelling on the Dukes Hwy A8. At Keith turn south on A66, the Riddoch Hwy, and drive a further 150km to Coonawarra. Very straight forward.
Our favourite stopping points (largely governed by 'CTTP'-good coffee, good tea, good toilets and good playgrounds) are Tintinara at Heart of the Parks https://www.facebook.com/HeartoftheParks/ (a community craft and delectable homemade goodies shop at the old railway station) and a café called Henry and Rose in Keith http://henryandrose.com.au/ – special mention also of the monorail at the playground in Keith – fun for all concerned.
The drive from Melbourne to Coonawarra is more involved with beautiful and varied scenery along the way. This is our 'go to' route, not the shortest but the fastest (legally) as it utilises as much of the 110km/hr sections of highway as possible around Ballarat and subsequently avoids Ballarat City and several 60km/hr towns west of Ballarat. We also choose to go cross country from the Western Hwy to the Glenelg Hwy from Beaufort to Streatham, instead of from Ararat to Glenthompson. The Beaufort to Streatham is a great road with few trucks, whereas Ararat to Glenthompson is a designated truck route - and invariably you can get stuck behind a truck for many kilometres. We say it takes about 5 hours of driving plus however long you stop.
Leave Melbourne / Melbourne Airport, head for the Western Ring Road M80 and then take the Deer Park Bypass to the M8 Western FWY towards Ballarat. Keep going around Ballarat to Beaufort. 7km west of Beaufort head south on the Eurambeen-Streatham Road towards Streatham. As the dual lane development of the Western Hwy continues towards Stawell, it'll be interesting to see if and when the tipping point of 110 km/hr vs distance wins out with Coonawarra as the destination - currently it's still faster via Hamilton. I still haven't found a GPS that suggests this route but we "picked it up" from the shop keeper at Westmere (when there was still a shop at Westmere!) It's faster because there are fewer trucks, fewer towns and it utilises 110km/hr section around Ballarat for as long as practical. From Streatham continue west on the B160 Glenelg Hwy towards Hamilton. If you're going to be travelling through Hamilton during the school restricted speed hours, then head in the back way - after Dunkeld, at the railway crossing, turn right on Mill Road and travel via the locality Strathkellar into Hamilton. (and if you're extra keen, bypass around Hamilton central by driving along Kings Street to avoid any extra traffic - if not stopping in Hamilton). Then it's on to Coleraine, Casterton and via the C198 Casterton Penola Road to Penola and the A66 Riddoch Hwy to Coonawarra. Try your hardest to avoid the Casterton to Penola stretch at dusk or night time. There are many kangaroos and it's best to slow down if travelling at night. We 'count the roos' to keep ourselves alert for that last little stretch. Yes, at times we see none, especially during the day, but our longstanding record was 56 roos in a 55km stretch. Until a couple of months ago when we counted 73 one evening! Please be careful! During the day we often see many emus, the resident brolga pair on the south side of the road and we love the big old gum trees. The other thing to keep in mind, if travelling at night – Hamilton is the last town on your way with 24 hour fuel.
To force you're GPS along this route - key in the stops: Beaufort Band Rotunda, Streatham General Store, Coonawarra.
Our favourite stopping points on the Melbourne to Coonawarra route are the Pyrenees Pantry https://www.pyreneespantry.com.au at Beaufort, Roxburgh House http://theroxburgh.com.au in Hamilton, Glenelg Fine Chocolates https://www.facebook.com/pages/category/Gift-Shop/Glenelg-Fine-Chocolates-672789129460410/ in Coleraine, and Say Grace https://www.facebook.com/pages/Say-Grace-Casterton/202744489753832 in Casterton.
And you've made it. Now to enjoy Coonawarra! Cheers, S Kidman, Coonawarra